One of the leading trends for Spring 2011 is the retro trouser jean. It is a wonderful step away from the tight leggings and skinny jeans of seasons past. Skinny jeans are notoriously difficult to wear unless you have very thin legs and no hips.
see below
Designers such as Derek Lam, Celine among others showed the high rise jean in their
Spring 2011
collections. This style and cut may not not something that every woman can wear.
It gives an amazing fit to those blessed with slim hips and it does help to camouflage a bit of stomach bulge because of the high waist.
I like it because it reminds me of one of my favorite eras, the seventies.
Derek Lam(style.com)
Derek Lam(
http://www.style.com/
)
So before anyone else en masse got there( H&M and Forever 21 maybe), Patrick Robinson and his team at the Gap produced a wonderful, quality pair of trouser jeans called the
High Rise Trouser Jean
. I spotted it in the window about 2 weeks ago and I knew it was going to be the shape for Spring.
I tried them on this week, the fit was excellent and it looked modern, really modern.
You will need to wear them with heels as they are super long. It needs to be long for the long legged effect, do not consider altering them, that will kill the look.
I paired them with boots for now(long tight striped sweater), and in the Spring I will pull out my wedges.
I plan to wear them with a belted short trench or sleeveless safari jacket in the Spring.
I like the way Derek Lam paired them with a white blouse tucked in with a skinny belt, but for me, it will not be tucked in.
I know this is not the look for everyone, but for those of you who can wear it,
Spring Forward to the Gap
and buy the Jeans below for a fraction, no more than a fraction ......$
69.50!!
http://www.gap.com/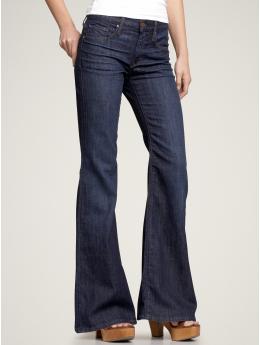 and they are also available in White! They are also available in petite and tall. Runs true to size.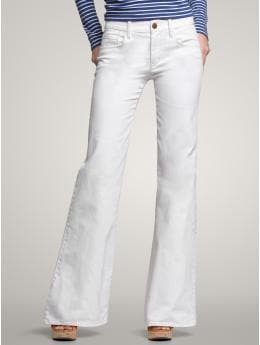 http://www.gap.com/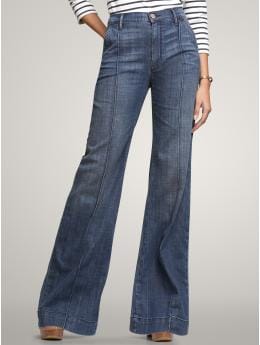 This style was added today! Pintuck seam.
They are longer and fuller than they appear in the Gap pictures.
See other runway looks below, snap these jeans up, they will not be around by Spring.
Celine(style.com)
Celine(style.com)
Dries Van Noten(style.com)
Dries Van Noten, wowwwww(style.com)
Elie Tahari(style.com)
Happy Shopping!