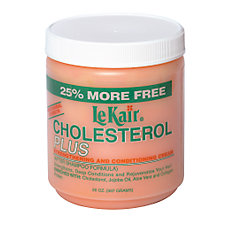 Yep, $1.99 at Walmart
I know,we have Moroccan Oil at $40 a pop for a tiny bottle and yes Fergie from the Black Eye Peas douses her hair in it overnight. That is one bottle a pop.
We are not Fergie.
We have Keratase but so expensive but how good is it?
We are always seduced by price, if it expensive then it must be good.
But this product is cheap, it sits at the bottom of the aisles in stores but it has been there for over 30 years and that says a whole lot about it.
Le Kair Cholesterol plus Strengthening Conditioning Creme deep conditioner.
It is perfect for all hair types. It is a favorite among african american women but it can be used on all hair types.
It is think creamy, contains Jojoba Oil, Collagen and proteins. It is for damaged, dry, brittle hair.
It really gives soft lustruos hair and comes in a mega jar.
Wonderful!