The sales are legendary. That was what I heard first, " you have to try the sales at Banana Republic". That was a very long time ago and I have been a loyal customer ever since.
http://bananarepublic.gap.com/
Banana Republic is a part of the Gap Empire. The company was founded in 1978. They sell clothing, shoes, accessories,body care for men and women. Their main customers are women, specifically professional women over 25. They think about women who may be in transition in life and career, they truly do.
The sales associates are phenomenal, friendly and are ready to inform you about the latest sales.
The current one ends tomorrow, everything is 25% off in the entire store!
They sell suits, some outstanding party dresses and suits, great cocktail wear, and weekend wear. They have it all!
They offer the best accessory assortment anywhere. Anthropologie,J Crew and B Republic have the some best accessories on the market today.
And the prices! So reasonable.
Bags- Great bags, leather and other synthetics, but super classy and multi- purpose.
Scarves- Many styles but once again, some unique pieces and reasonably priced.
Shoes- They are on the latest trends but with a classic touch. I saw a pair of super tall tan booties, yum!
My favorite pick for the holidays is their 5 pocket velvet skinny pant. It fits like a glove, has some stretch and guess what? not super low!! I can tuck in a shirt, wear a great belt ! That has been a long time coming, rejoice ladies, rejoice! These pants are amazing. You can wear them all season.
Super Flattering Fit!
with boots- high or low
with ballet flats( black with black flats, maybe black jeweled)
With booties!! Yes!
With a long sweater
With a dress and heels
With black peep toes shoes
With white or black shiny shirt, great necklace, tucked in.
With a white shirt tucked in.
With a open cardigan with a nice tee and scarf.
What else can I list for you??
These are it for the holiday season for ladies on tight budgets and they are 25 % off until Friday!!! They do come in regular,petite and long.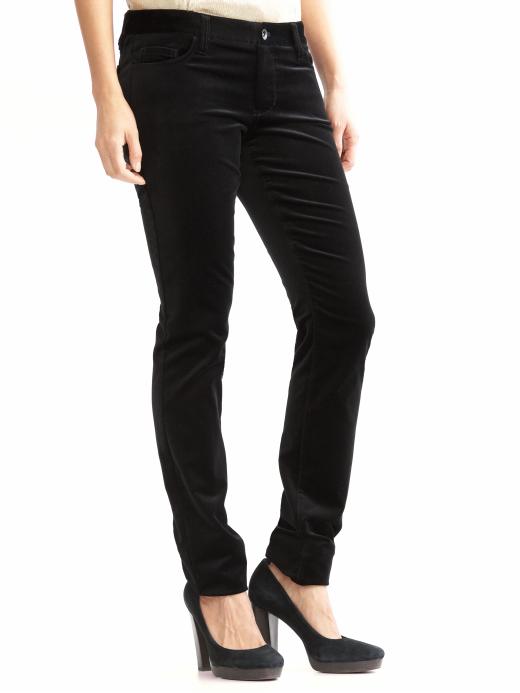 Link for skinny pants.
Link for Pants
These pants are a must add to any wardrobe!