These are cocktails that are fast and easy to make at home. No shaker needed. No limes muddled, no mint leaves to crush. I do not have measurements, approximate, mix and enjoy.
Campari
A few combinations. Please note Campari is a hate/love. Campari is bitter.
Campari and Soda- Campari, Club Soda and lemon slice
Campari and Ginger Ale- add a lemon slice.
Campari and
Orange
Juice.
Always start with ice and pour Campari first always about a quarter glass (cocktail glass)
Pimm's Cup
From
England
, Pimm's Number 1 cup is a blend of dry gin, Liqueur, fruit juices and spices.
Recipe is Pimm's number 1 cup with ginger ale, lemon lime soda or club soda. Add a cucumber spear. Drink in a highball glass and pour the Pimm's first. You may add slices of lemon, apples or even strawberries.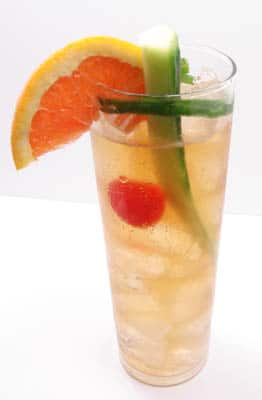 Khalua and Club Soda
The club soda adds some fizz and tones down the sweet.
Ice
Khalua and add club soda last.
Add 2 cherries.
Kir Royale
Blackcurrant liqueur and dry
Champagne
.
Pour into flutes.
Use Prosecco for along with the liqueur for Kir.